20% off
Ocean Tide Collection

Read All Reviews ( 59 )
Was From £16.00 Now From £12.80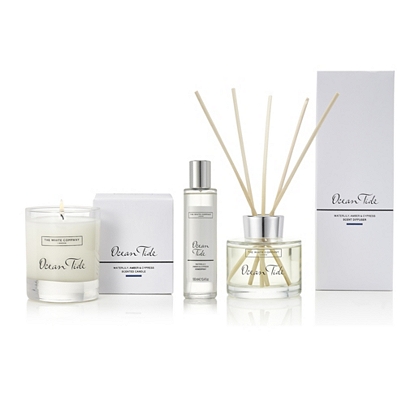 view full size image
Why we love it

Imagine floating in a brilliantly blue ocean, that's warmed by the sun and lined with cool pebble shores. Enjoy a moment of tranquillity with this aquatic blend, which ripples across your senses with notes of refreshing sea salt and violet leaf plus uplifting orange and vetivert.

Delivery

FREE STANDARD DELIVERY on UK orders over £50

Standard delivery 3-5 days £4.95
We can gift box most items
Collect+ service available: see more details
Next day delivery available, order by 7pm: see more details
International delivery available on many items
For information on all of our delivery services click here

Reviews

Here are some reviews from people who have bought from us

Ocean Tide Collection

Beautiful smell

Smells gorgeous

EASY TO USE IN HOME

Love this fresh smell in the bathroom.

Bought it to match the diffuser

Bought this as I also have the diffuser, smells amazing, highly recommended..

Lovely fresh summer scent, I use every day.

Amazing smell

I also love the smell of this product

This is a lovely fresh, summertime scent. Have had lots of compliments from visitors.

Fab scent

love this smell....not only does it remind of your stores but my husband commented it was like being on holiday somewhere and couldn't pin point what it was - I showed him the room spray and he just smiled like he was remembering something good.

Lovely scent

Love the smell!

Great bathroom smell

Love this diffuser. Very fresh.

New diffuser to me and really nice aroma.

Fine

Change from the normal ones I purchase

Loving this new fragrance, it is truly lovely, light, refreshing and uplifting

Excellent service, parcel well packed and no damage

This smells amazing, I have this in my large living room, everyone compliments the smell when they enter the room..

The best smell in the world...just can't get enough of it! So recognisable as the ocean well before you know the name of it, It transports me to the ocean everyday and is so relaxing. All my visitors comment how nice it smalls when they walk into my home. Love it!

Same comments as for White Lavender Diffuser refill.

I love these diffusers. They last longer than any others I've tried. Like the fact that I can go "seasonal" as well! So far, have tried the Winter and Spring.

Product fine but not enjoying smell

No comment

Beautiful smell, very stylish.

Has a nice refreshing , pure smell, very subtle

Lovely scent!

Smells lovely and looks good.

A fantastic understated scent

Absolutely fabulous smell, just like being by the seaside.

v. pleasant but not quite the 'ocean' aroma I was expecting!

I love this new aroma, it is my new favourite, Winter being the last one!

Delicious new smell - one of my top 4 fragrances along with Seychelles, mustique and winter

The smell is far too subtle, does not really fill the room with a much smell. I have been using sychelles for many years and this is not as good.

Lovely new smell for bathroom.

The scent isn't as strong as I'd expected. Even in a small room, I don't notice it, rather disappointed

Duplicate purchase as so pleased with it!

Great new smell - perfect for my bathroom.

It was a present for someone else, but I have had this candle myself in the past and loved it.

Just started using my Seychelles candle .. beautiful. The rest yet to be tried.

Not tried this fragrance, it's a gift for a friend. As we live beside the sea I thought it was appropriate.

DIVINE

I previously ordered the large ocean candle from you if you check your records. I have just opened it to display in my dining room and very surprised and disappointed to see very large gaps and bubbles. What do you suggest I do as this doesn't look very nice ? I would really like s replacement if this is possible.
Many thanks
Sharon Burton

Looks elegant and beautiful perfume..

Lovely summer, salty smell

Lovely fragrance

I wish I could purchase these refills instore

Pleased that I am now able to buy a refill for my diffuser.It is one of my favourite scents for the bathroom.

BUYING A GIFT?
Just tick the gift-box option during checkout to make it even more special.
false
false