Seychelles Collection

Read All Reviews ( 737 )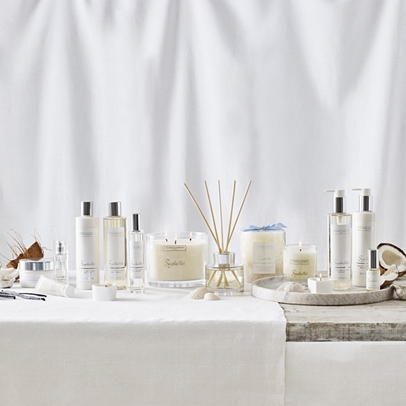 view full size image
Why we love it

Evoking the balmy breeze of an Indian Ocean island, soothing Seychelles combines notes of fresh bergamot, bright orange and rich amber with warming notes of exotic coconut, vanilla and almond.

Delivery

FREE STANDARD DELIVERY on UK orders over £50

Standard delivery 3-5 days £4.95
We can gift box most items
Collect+ service available: see more details
Next day delivery available, order by 7pm: see more details
International delivery available on many items
For information on all of our delivery services click here

Reviews

Here are some reviews from people who have bought from us

Seychelles Collection

Lovely candle

Smells beautiful!

Beautiful scent, will buy again.

Gorgeous smelling candle

A long-lasting and beautifully scented candle which kept its scent to the end.

Bought for a present. Quality product, well received.

Not used yet but smells great - was given as a present.

Nicely packaged.

£20 for a candle that lasted 2 nights

Very pleased ,thank you

Lovely!

This was a gift for my niece.

Great product

Very nice but over priced

Never received product so had to go out on Christmas Eve to buy another present

If I could get my money back I would be happier. The candles give no smell at all which is so disappointing.
Will never buy this again

Christmas present One daughters favourite

I bought this as a gift so I have not used it, but I requested for it to be gift wrapped and it looks amazing!

It is a requested Christmas gift so I can't really make a comment apart from the recipient must line it has wouldn't have asked for it . Regards.

Lovely candle really happy with purchase

Love the product, such a lovely scent

Again - it's a gift

Another gift for someone so cannot supply comment, however it is well presented and again have previously viewed this etc in-store.

The candle was bought for a present for my daughter who loves the Seychelles perfume, thank you.

Fresh smell

Smells divine lovely packaging.

Would have liked ability to purchase the gift bag for my purchases. The only option I could see was gift box. I made a trip to shop to purchase gift bags for my purchases.

Perfect gift for someone I care about.

I have yet to use it

Love the fragrance.

My favourite scented candle

Lovely candle. A gift for a family member who likes the seychelles range.

Present for my daughter to brighten her day

LOVE this smell

The candles and other products are for gifts and were selected because of the positive comments about previous gifts.

Just what I wanted!!! Perfect!!! Thank you!!!

it smells amazing and lingers in the room

Love the Seychelles smell and candle smells gorgeous

Love the smell

Stunning my favourite for my spa bathroom takes me to the beach

I love this range of fragranced candles. It is the only range I like and always buy something from the range.

This was purchased as a gift

The smell is wonderful

Love!

It took a little while before the lovely smell actually came out of this candle. It seems to get better each time you light it.

Very nice homely scent, wife is very happy.

Lovely smelling candle

seachelles candles, recomended by a friend - delicious!

Very good looking, great scent.

Such an amazing smell! Absolutely love it!!!

I love everything from WHite company. It makes you feel like you are on holiday.
Seychelles candle is so lovely, smell of coconut and vanilla... :-)

Gorgeous scent.

It's just such a beautiful scent that fills the room even before burning the candle. It's very pretty too

Great fast delivery and lovely products

Goes well with diffuser

Good product

This has a really lovely light perfume.

Strong smell that lasts

This is the very best smell I've ever bought. It fills the hallway and welcomes you as you open the door. It was first bought for me as a gift. I've since bought it for a couple of friends.

Lovely housewarming gift

My home smells divine

A nice candle. We wanted to test it as planning to have it at our wedding but will opt for an alternative as it's a very subtle scent.

Lovely candle but I wish the fragrance was a bit stronger

Lovely scent. As always a White Company classic! The longevity of the candle burning time is also very good.

I love this fragrance it's amazing

Love this scent & so does my daughter, she was delighted with the gift set.

This is the 2nd one I've got

Smells lush

My stepdaughter loves all these products

It's a little expensive but I love the perfume

Fast and reliable service. Wonderful product with brilliant packaging.

fills the lounge beautifully.

Lovely scent, a gorgeous thank you gift for a friend

Lovely set bought as a Wedding Present and very well received

Loved everything good size products beautiful smell all over the house x

The plastic around the lid of the scent sticks is very hard to get off and the stopper itself had to be pried open with a knife. This was a gift for my grandma and she nearly injured herself trying to open it!

Lovely scent, it made a lovely present.

Beautiful presentation. Gorgeous fragrance. Perfect gift.

this was a gift. beautifully presented.

Smells amazing

Absolutely love Seychelles, the candle/diffuser/homespray trio is a great idea for consistent look and fragrance in your home :)

Was a replacement for my first ..... now absolutely hooked!

Love the smell

Never had this fragrance before, but is now a firm favourite

Smells beautiful

I love the smell of Seychelles so was looking forward to having the diffuser in my lounge but unfortunately I just cannot smell it at all unless I physically pick up the bottle and smell it. And yes, I have taken the top off!! Very disappointed, sorry.

Wonderful scent for room

smells very nice, minimal design

Lovely product

I love this smell and the diffuser if perfect

Love the fragrance. Amazing!!

Absolutely no scent at all- a great disappointment especially as this was a Christmas gift-

I find that the product ordered on line does not smell...I was really happy with the same product bought in store

Love the smell had before

Just amazing

Again smells beautiful, I need more!

The smell itself is lovely but I knew that already as I have had them before. Packaging on both was filthy both inside and outside the cellophane making one totally unsuitable for its intended purpose as a gift.

Divine

The product is great but the service was not.

Love this scent and so purchased both the tea lights and home spray too.
Very pleased.

Super!

Perfect fit the bathroom,

Have used thiis fragrance before. Love it.

Bought as presents so not opened yet hoping there not broke

Love the scent. Very pleased with purchase.

My friend loved it!

Purchased for a Christmas present.

This item has been purchased for a Christmas present, but I am sure it will be good

Seychelles is my favourite fragrance and even though I have tried others I always return to my first love.

Nice scent!

Same again, gift for a family member. I use Seychelles also.

I love this product. The smell is extremely good - not overpowering. It hovers in the background. It gives the perfect welcome in the hallway of my apartment.

Perfect as always

I always use this one as it is absolutely gorgeous.

Love it!

I am very pleased with the service and my items I purchased. Will certainly be buying from here again.

I bought this for my daughter and I love the smell everytime I walk into her room

Love these and make great gifts.

No smell coming from the diffuser unless you sniff the bottle, very disappointed won't be buying another diffuser from white company.

You cannot beat The White Company for quality! Amazing service, amazing customer service and amazing products!
The Seychelles reed diffuser is based in my kitchen, you walk through my lounge to get to the kitchen, and you can smell
It in the lounge, it's such a clean fresh smell! Love it!

Pleasant aroma

Had several of these, but bit disappointed as not as strong smelling as usual

Simply adore this smell and lasts a long time

Always reminds me of Mediterranean holidays

Fab love them thank you. Superb quality

Good quality.

I've only been using this for a couple of days and the smell is very subtle, however it may get stronger as the days go by.

A favourite I purchase over and over

Love the fragrance sometimes wish it was stronger

I've been using this for years after I smelt it in store, best home fragrance. Smells like summer. Even my husband likes it.

Beautiful classic packaging

Great smell. Enough to fill my livingroom!

Gorgeous fragrance .

Beautiful frahrance lasts ages

It doesn't seem to smell as strong as ones I have previously bought which is disappointing.

Love this fragrance!

I love the scent

Though l did have real problems getting the screw cap off - was a very tight fit!!

Beautiful. Love the fragrance. It lasts

Love it the smell is refreshing

Perfect and beautifully packaged.

This is the second one I have bought as I love the fragrance.

Love the diffuser, just wish the tops were easier to remove

I love this fragrance is my favourite.

Makes room smell delicious

I absolutely love the diffuser it makes such a difference to the home environment

Love the scent of this diffuser.

Just love this fragrance. My daughter in law came to visit and said what a lovely smell so I have bought her one and she loves it x

Love the scent

Lovely smell and looks good

I think it looks good but the smell is pretty much non existent. I have it in a small porch area at my front door, approx 1mtr square - so the scent should be strong but i cant really smell it at all. My first product from The White Company, and quite disappointed :-(

I just love your products thank you

Lovely diffuser - great scent

well presented and good quality

Love it great smell

Love it x

I love the fragrance there's none other like it

Beautiful scent

Subtle scent and smells delicious

Love the smell and doesn't fade like others I have used, a little expensive but you get what you pay for.

The smell of Seychelles is so refreshing.

Smells like a lovely holiday! Looks good too.

Love it, i just find them difficult to open

Looks good and smells good

I love all your products but would purchase more if you had a few more colours - not bright colours but say pale pink, dusty pink etc.........

Perfect. Long lasting fragrance. Have them all over the house.

I love this diffuser, it smells divine

Smells wonderful!

Fantastic smell

Haven't had this one & just love the smell. Not over powering.

Lovely product; I have given these as presents to many people and they are much appreciated.

Beautiful fragrance

Might even prefer this to White Geranium which I love.

Seychelles diffuser is my daughters favourite

A little squat but smell fab

Smells wonderful.

Love it, I also have the smaller one. Good quality and scents the room.

I LOVE this smell!!!!!

Great smell

Lovely fragrance. Wish it was a little cheaper. Manageable when there is a 20% discount offer. Lasts a long time.

They leave a wonderful scent in my living room.

See above bought to go with to lanterns

One of the best selling fragances for a reason, always smells lovely and great in tealight form.

Not used yet

Beautiful

Smell lovely and packaged brilliantly

Smell wonderful

A great way to scent the home

Beautiful

Lovely !!

Look and smell good. I surround a larger candle with them

Love this candle, wish there were more fragrant indulgence candles, particularly 21 which is the best

Love this fragrance

Regular user, great in small rooms like cloakrooms

Love this product

I like

Neither of the Seychelles refills I have received produce a noticeable scent. I am really disappointed because the original Seychelles Diffuser, in the same room, produced a lovely scent. It is an expensive waste of money.

Again, purchased before as very happy with the product.
Might I suggest that you introduce some fragrance samples of new ranges as I have in the past purchased items that I found to be disappointing. Maybe some scent samples on sealed cards or small diffuser sachets.

Love the diffuser

I love it.

Smell gorgeous

Have been using the Diffusers for years love Seychelles.

This is my favorite scent; the diffusor comes with new sticks which is a good bonus.

Great idea and saves resources

Love this, I have bottles of it everywhere! Wont be ordering it mail order in future, I will only buy it in store - It is quite an expensive room fragrance anyway without the delivery charge on top!

I will be ordering more of this - only criticism is that it is slightly too expensive as only £2 cheaper than the full diffuser itself.

Love the Seychelles aroma - diffuser refill very useful to keep topping up !

Good idea, rather than buying the whole diffuser kit each time.

I have bought a couple of Seychelles diffusers and have just bought the refill.

This product was bought to be given as a Christmas present, I have not tried it but the presentation was very good.

I love this product - i love the fact that you can refill the bottle and have new reeds

Love this, not overpowering.

This is a beautiful fragrance. I have it in the bathroom all the time. It is great to be able to top it up

Very good

Hardly any fragrance at all. Am very disappointed as I love this scent, but it is no longer discernible with this refill. I even began to suspect it was just water!!!!

Wonderful smell

Needed the refill to bring some sunshine in the house through the dark winter.

I love the smell and it stays the same until it's all gone. Some other brand diffusers I've had in the past start to smell gone off after a while.

Very nice for a change .

Gift for daughter

Always use this smell throughout the year, gorgeous holiday smell

However, keep the price low to remain competitive.

Beautiful fragrance

Fabulous

Lovely fragrance

Beautiful as always

Gorgeous product

I use this diffuser in our downstairs loo and loved the smell so thought I'd get a refill. It arrived beautifully packaged with new sticks, so I threw my old ones out and refilled the jar using the new sticks. It's been over a week now and I still can't smell the scent when I go into the room (it's a tiny downstairs toilet). I turn the sticks every time I go in but something is not working. I don't know if the sticks are too thick or the liquid isn't doing it's job. Either way I'm really disappointed as the product isn't cheap.

Still expensive even with a discount voucher but worth giving a new fragrance a try.

Always good but it seems to me that the refill is more watery...

Lovely product but packing for this parcel poor see below

Great product..... absolutely love the smell.... definitely buy again!

I wish I could purchase these refills in store

An easy way to refill the diffuser.Great smell.

I have bought this before..love the scent.

One of my favourite home fragrances. I have this on my bedside table - it reminds me of summer holidays and is incredibly soothing.

Have had one already and liked it so much I had to buy another

as always quality product with a scent I love.

Love the smell

Really love the aroma of this diffuser

The smell is just divine!!

Exactly fits my expectation.

I love the quality

I lovevthe fragrance and have been buying this for as long as I can remember

Great to be abke to buy a refill of my favourite smell!

My favourite scent Lasts for ages

This is my all time favourite diffuser. I was so pleased when The White Company started doing the refill. I hated throwing away the glass diffusers.

Didn't know you got refills. So much easier to open!!

As soon as I refill diffuser, scent fills the air! Seychelles is a beautiful scent.

So much better than buying the whole thing each time

I love the smell of a summer brach in my home

Love this fragrance, ideal to be able to order just a refill. Whish refills were available in the Spa Restore !

Love these diffusers. Everyone always comments as to how lovely the bathrooms smell. They are expensive but seem to last

Not very strong fragrance

alles bestens

As above. Glad you do refills now.

As always beautiful

Love the perfume and brilliant to be able to buy a refill.

I love the scent but the refills do not seem to have the intensity of the full sett with holder.

fantasic, hate wasting the bottles, wish the other fragances were back in stock so I could order more.

Seychelles Is the aroma that I love!

Perfect item. Long lasting fragrance. Have them all over the house

I love this fragrance, could just do with it lasting longer and smelling a lot stronger.

Long lasting smell

I love the whole range of Seychelles products. I buy the refill as this makes it slightly cheaper. I live alone but if even the refills were cheaper I would buy more as I do have cheaper diffusers elsewhere in the house.

Love this fragrance but wish it was available to buy in store too! would buy more if the refill could be purchased in store. Very annoying that is on line only. Whilst your reason is probably to encourage consumers to always buy the whole diffuser yet again, I believe you are missing out on sales overall as you would make plenty repeat sales on the refill.......

A standard fragrance in my house, I regularly order the refill as it provides better value for money and saves having to recycle perfectly good glass containers.

don't need sticks - save cost!

Very useful indeed.

Love the smell

Excellent idea no more wasted bottles. My favourite fragrance.

The White Compsny's diffusers are the best ever! Was given the Seychelles for Christmas by my daughter. We lived and worked in the Seychelles for five years and the perfume took me straight back. Needed a refill to use when necessary!

I love the fresh perfume.

EXCELLENT AS ALWAYS WITH THE WHITE COMPANY

Again, loved the fragrance and the ability to combine with or use instead if the candle

Extremely happy with the purchase made.

The Home spray was lovely and was very much appreciated as a gift for my aunt.

Love it

My daughter in law loves White Company products that's why your company is great for birthday and Christmas gifts! Thanks.

Love this smell of summer

Don't like the perfume

Fabulous gorgeous seaside fresh & coconut soft spicy delicious clean delightful

Soothing

Never get tired of the smell .

Have used this before but love it so had to get more

I love this product it smell amazing

Exactly what I ordered smelt lovely

Lovely smell

Great to be able to spritz my favourite smell around the house. Smells of holidays!

I have been using this for 4 years! excellent as always. Even my friends in the US always ask me to buy for them.

Absolutely love the smell

Delightful seaside fresh such a fabulous scent I keep rebuying this

Love the smell reminds me of good times

All quick and easy

Love scent

Love it, definitely would repurchase

Love it !

Love it!

I love it and recommended it to a friend and she brought the diffuser

Love this product Just wish that in the Southern Hemisphere we could get Winter spray. As it is very cold here now.

Goes together with gift set very well.

Excellent products which I've used before.

Came with hand written sticker label on back so had to call customer services to find out why and if it had been a display one. Then had to go to the shop and replace it. A lot of hassle which is why I bought online in the first place! Not impressed!

A lasting fragrance that reminds me of holidays abroad!

The most amazing smelling product, I'm addicted!

Love the smell and it looks pretty too

This was bought as a gift, however the packaging is excellent

Favourite scent

Bought this a number of times. It never fails to impress and the aroma is wonderful.

Bought for my daughter as a Chriztmas present so unable to comment on product , sorry.

smells divine

Favourite smell absolutely gorgeous

Perfect - packaging and smell

Lovely and classic.

Can't wait to use it!

Very happy with products

Was a gift , but received very well

As expected

Bought this as a Christmas gift although I have to say that I have one myself. Beautifully packaged and I love the Seychelles fragrance. It's a great way of introducing someone to the range.

The fragrance doesn't last like other ones from your range

Present

Smells amazing! Can't get another of it, fresh yet spa like heavenly scent!

As above

Lovely scent, good value

Tried and tested favourite.

This is my favourite of all, just love the smell

Great products, that's why I keep shopping with you
Great Staff always helpful

Very easy to use website

Very nice

Smells amazing! Love the little shells in it!

Looks good not used it yet.

Excellent

Lovely candle. Looks very smart

My sister in law absolutely loves the fragrance and the beautiful presentation with shells in the candle

Smells and looks divine!

Great gift

Lovely

It's a lovely big candle that burns well but I have not really had any scent from it when burning which is a shame as the body lotion smells so good

Amazing live the smell

Bought as gift so have no comment on burning it.

Looks lovely and smells beautiful

Excellent value for money. Look and smell wonderful

Looks lovely , not much sent

Just perfect !!

Would have liked to get the oil refresher for it but none was available. Have since tried in the White Company in Selfridges and had the same problems.

For the price I expected to be able to smell it. Looks great, large quality pieces, but very disappointed in the lack of fragrance.

Not as strong as I would of liked

My new favourite room fragrance

Smells amazing and was part of a gift shame about the damage to one bottle and they won't reply to my email

I use this oil to add to melted down remants of old candles and always smells lovely.

lm so glad you have the Seychelles refresher oil back in stock. I have bought 5! Love the scent

This is the best smell in the white company.

Amazing product.

Not quite as strong a smell as diffusers.

Got this to use in my vapour diffuser. I add to water plug machine in and room smells beautiful in no time. Would work well with the tealight burners too

Mixed it with coconut oil. Love it.

Gorgeous!

not used yet but delicious scent and am looking forward to using it on my NZ trip shortly

Warming up the bottle several times makes the oil smell like grease

love the way it melts in your hand and the same fabulous smell.

Very luxurious and kept moisture locked in all day with a subtle amazing scent of the popular Seychelles

Fine

Didn't realise it was solid and you had to warm up the oil each time. Not expressed by the picture.

This is an amazing product

A bit disappointed with the product, the scent was just not strong enough. Brought 2 of these as gifts and would not do again. The shower gel and body lotion far better quality.

Surprisingly good. Quickly absorbed.

Excellent value and gift

Really good. Boxed lovely.

Gorgeous scent and very indulgent

A mellow, luxurious, unique fragrance. I enjoy using the products last thing at night before bed. Warm and intoxicating.

Top quality gift set

It's a gift for someone, but I've also purchased the product myself previously. The smell of both is amazing and the body cream stays on for hours - lasts longer than my perfumes.

Beautiful fragrance

Adore adore adore this product

My wife loves this stuff

Absolutely marvellous!

My purchases are normally gifts but because I get so much appreciation from my
family and friends I of course reorder The White Company. Thank you for making
My gift buyin easy!

Very happy with product as described

Present well received and good value nicely boxed

This was a gift for a friend and as I had recently received the same product I knew it was very nice.

Bought as a present and received with delight!

I was disappointed that the gifts didn't come with a gift bag as they have when I brought them from the shop .

Beautiful

Special gift. Order failed - no reason. Rang to sort it out. Despite profuse apology order still not delivered.

Bought as a present, lovely presentation.

Really pleased with purchase smells lovely

Good product -

I purchased this for my Niece for Christmas, she has used this product before and loved it, also it is beautifully packaged . I am sure she will be very pleased to receive it as she is heavily pregnant and it will be lovely to has as a treat just for her

A beautiful gift.

I LOVE these products

The gift was for my daughter. I did not open the package so cannot rate the product but have no reason to believe that it is other than good

Lovely scent, perfect gift.

I haven't tried the body lotion but am assured by my sister and daughter in law that it is lovely!

These were bought as presents for my daughter who loves the the set. It is so quick and easy to order and delivery excellent.

Good packaging.

Beautiful scent.

Your products are good and at your special prices I will always
come back for more

Love all the Seychelles products and smells amazing, got lots of it for my birthday and presents and then treated myself to more with my birthday money.

Love this product!

Lovely product, love the shower gel smell and the body cream has a lovely texture and leaves your skin feeling fantastic.

Bought this product before as it is my favourite and now bought it for a gift.

My daughter in law, loves this product, she was delighted with it.

Lovely products.

It didn't ever arrive!

Love this product. I would probably put pumps on particularly on the body lotion.

Always buy this for female relatives at Christmas, they are always delighted with them

I was not in when my parcel was delivered however my parcel was left somewhere very safe thank you

Third lot I've purchased as it smells delicious and lasts for ages ..

As usual I loved the products. Excellent quality and beautifully packaged.

The Seychelles Body Lotion and Shower gel are really something special. A little goes a long way and the body lotion makes my skin so soft. Also the smell is divine.

Long lasting fragrance

Excellent as always good value online

These were for my Dayghter in Law but we both love the fragrance of these items especially the diffuser which kept its fragrance to the very last drop.

Thank you

Packaging nice

Carol loved it. It would be good to have been able to add a gift message though - there didn't seem to be an option to do so.

Lovely gift set

Very good lather and scent on the shower gel and the moisturiser was rich and great scent too

Seychelles is the perfect scent!

As above.

Luxurious smell lasting well.

I love everything about this product from the smell to how long it lasts!

As above.

They are lovely products

I love the fragrance, and also it is a good product x

A beautiful gift for a friend.

Brilliant

The item although packed in a very large box had no dispensing cap. Fortunately I could replace it with my old bottle of the hand wash! Not what I expected!

Love Seychelles

Always reminds me of holidays

Wonderful product

Favourite smell in the range

Lovely :)

Expensive for a liquid soap but worth it

Great product. Lathers well. Lovely fresh smell. A must buy in the future.

Superb product!

Love these products. Lovely home fragrance. Good quality.

Just wanted to take the chance to ask once again if you could put forward a request to make a perfume / body fragrance in the Seychelles fragrance, I think you would find it a popular everyday fragrance which would market very well.

I am looking forward to using this product based on all the excellent reviews from other customers on the White Company website

Lovely scent. Would definitely recommend this and the matching hand cream

I love the hand wash that I bought the perfume from it is lovely. Also it suits my skin I would buy it again

lovely fragrance.

Lovely product and have time and again repeated my purchase, so I guess that makes me a fan!

Lovely scent

Wonderful

I'm sure it t is very good but it was not what I ordered

Scent lasts

No change.

Bought for my niece she loves it

Very efficient and so pleased with my products. Will shop again with The White Conpamy.

Lovely hand wash it's all I buy !

Soothing

Beautiful scent

Adore this scent

As above

I love this range. Reminds me of holidays inthe sun

Lovely smell and texture

Smells wonderfull

Love this!

Lovely product!

smell lovely and remind me been on holiday

Wonderful fragrance and texture and leaves hands smelling wonderful

Would definitely purchase this and the said named lotion in the future more so when on special with discount

I did use Blanc and Nour but you no longer stock than so Seychelles was my next. Hoice

Non drying, as above

Scent

I just love the smell!

Smells nice and is long lasting

All good no changes required

my favourite white company scent

This is a favourite of mine.

Used it for a long time - home and for my office

Its great but Please bring back NOIR Range

Love the fragrance

perfect to go with the hand cream

Beautiful smell, one of my favourites

Lovely fragrance and not overpowering.

Smells beautiful!

Love this fragrance.

Lovely perfume

A little pricey but a little goes a long way and the pump dispenses the perfect amount in one pump

We love the quality and smell

Just what i wanted

I have tested other fragrances but always come back to Seychelles.

Luxurious feel and lovely fragrance

Love Seychelles - excellent value and order arrived so promptly

My favourite never lets me down

I love this product and have purchased this for some time now.

Just a perfect shower gel. Skin feels soft after a shower. Will definitely repurchase.

Makes me smell and feel wonderful

Its a great product, it lathers well and smells brilliant

I was given the shower gel as a gift and liked it so much decided to purchase 2 more for myself.

The first time I have purchased a bath product, but I am confident that it will be as beautifully scented and as good value for money as the candles.

I gave it as a gift with the bathroom decanter, has now been used by receiver and pronounced 'divine'!

Didn't receive it

Very thin and watery. Had to be returned

Yet to use. Smells lovely.

Not tried it yet but have used other products in the same range and I am sure it will be just as good

Lovely scent. Goes further than the bath foam.

Just gorgeous!

Super in both a bath and shower.

What a gorgeous fragrance! Lathers into a soft bubbly foam! Love it

Smells lovely and lingers both on your skin and in the bathroom

Lingering smell quality lather

The scent is heavenly. I definitely feel like I've had a luxurious shower after.

Also used this product before

Love this shower gel.

it was for a birthday present and she loved it

I would love this fragrance in a perfume.

delicious.

Seychelles is just the best, it does not clash with any other fragrance

Lovely perfume soft on skin

LE FLACON RECU EST AU 3/4 VIDE

A good fragrance and an excellent clean

Smells lovely

Wonderful smell which lasts all day or night and leaves skin silky smooth.

Lovely

Love the fragrance

I adore the smell of Seychelles

I love the smell and nothing else like it ...
Excellent service.

Ditto

One of my favourites, was running low so had to stock up.

Sensible bottle for the shower, lovely scent

It didn't smell at all coconut-y but still nice

Good but smell could be better please bring out more scents for shower gel

lovely smell

Simply amazing. The smell is beautiful and stays with me all day.

Wife was very happy with the products inside

Product is excellent! Shame about delivery!!

Gift set was loved

I love this gift set. Such good value and box adds to elegance of product

Excellently product as usual delivery next day first rate

known and loved product

This product is my wife's favourite and she was delighted with her gift

I simply love these products. Body and hand creams are so rich and the perfume lasts all day. Pure Luxury!

Family and friends love it. Have told them who, and where it's from and they say the will purchase from them too.

Gorgeous box set with lovely products!

Beautiful products. Beautifully presented.

Beautiful products. Make perfect presents.

No issue with product. I ordered the product because of the quality but am very reluctant to do so again until the packaging is completely plain.

One element faulty , easy to order replacement

It's a Xmas gift so I can't detail a comment.

Ordered for a special gift. The items are great

The smell and packaging are brilliant

This is a gift for a friend I bought it for last year and who loved it

Beautiful gift set!

I like the quality of the items I bought used it first in my daughter in laws home loved the fragrence of the hand wash and hand cream had and treated myself to the gift set and would do so again .

Perfect

Would love to receive a gift like that! Lovely set!

Bought as a gift, it looks perfect. I know it is just right .

Super fast delivery and product fantastic as always. Shame the price wasn't a little cheaper I'd buy more of it

Lovely gift set got a couple of these for birthdays and they loved them! Very luxurious and nicely presented x

Bought as a gift, recipient loved the quality of the products and even loved the box the contents of the set came in. She couldn't wait to use all the products & we all had a smell of the beautiful Seychelles candle. We were out at a restaurant so unfortunately didn't have candle lit.

Quality products in a well presented gift box

Colleague loves the gift set. Would definitely recommend the products but service very poort.

Beautiful gift set!

High quality you would expect of the white company

A bit expensive but no doubt about the quality. Price on the upper limit of acceptability

I personally do not use the products, but the recipient's of my presents (of your products - from online and shops) do like your products.

Well presented!

As always...excellent service!

Arrived on time and intact.

A perfect girl

Lovely product packaged really nicely

Good

This was a gift but I chose it as I use the product and love it!

.n

Lovely product and lovely smell

Smells amazing

great quality, lovely packaging

Lovely

I love the white company products, always a good service too

Favourite perfumed gift set

Bought it as a gift but sure re unintended will love it.

Boxed damaged and was a friends birthday present on Friday, 24th November. so very unhappy and its still not sorted given present to friend and had to explain that is the way it came.

This is a gift, there is a small black mark under the wrapping on one corner of the box. Will try and swap in store.

I have this set myself and was so impressed that I bought for a gift

Lovely packaging

Love the scent

No change needed in my view, Lovely perfume, and products themselves very good.

Love these products

A little luxury . softens and treats your hands

My partner wouldn't use anything else. I think the fact we had to order it speaks for itself. The shop was out of stock.......,

The scent is divine and my hands feel so soft.

The gift sets are lovely and excellent quality.

Very pleased

lovely fragrance.

Love it! Second time I have ordered something from the Seychelles collection

Luxury scenting

A gift enjoyed by receiver

Product of was a gift. The recipient was very happy with it.

I think. It was a present and my friends seem very pleased with it

Bought as a gift for my twin sister as i have a set aswell its a lovely smell and very luxurious

It has the most fabulous fragrance.

Love these hand sets, have them all over my house. Ideal gifts.

She's still waiting to get it!

Again smells fantastic and the hand cream leaves your hands so soft and the smell lasts

Wonderful smell and very soft feel.

Lovely product !!

It's one of my favourites. Glad you do it in body products now.

Superb set. Smells gorgeous, quality products.

Ideal as a gift

Hand wash is brilliant! So is the cream but it's so thick it doesn't come up the pump so I have to keep removing the lid to get some. But annoying but it's worth it.

The problem I have is that the hand lotion will not come out of the bottle using the pump, either the lotion is too thick for the pump or the pump is faulty I wonder if you could help me with this Thank you

Perfect for a friends gift

Great smell been using it and buying it as gifts for along time

This smells as if your on holiday amazing

Everything in the boxed set is of excellent quality and my granddaughter particularly loves this perfume.

Easygoing

My favourite

This is a gift so I won't be trying it myself.

The product purchased is for my Granddaughter who loves it.

This was for a Birthday gift so ordered to go direct to a friend of mine who does not live locally. She has not tried yet as been away. Impressed with the presentation and as has used other products before expect she will enjoy using this set.

Fab value beautiful gift set.

Nicely packaged

I buy as a gift, it's beautiful

Lovely gift set

Have enjoyed this before - a lovely fragrance. A nice birthday present to myself!

Use this all the time, love it

This was a gift for my sister and she absolutely loved it. Thank you!

All the soaps have wonderfully fragrant perfumes, and the soap lasts well, without disintegrating .

Beautiful smell and lathers really well

Excellent

Don't think I'll be buying this again, the soap has only been open a day or two and is already falling apart

My favourite soap

Smells nice

long lasting soap and divine fragrance. a bit pricey but worth every penny

Very pleasant and luxurious scented soap.

Lovely size and beautifully wrapped in strong white paper. However my favourite scent is the lime and bay. I also love the Verveine soap which has a lemon scent.

Love the fragrance.

doesn't leave my skin dried out like some soaps. Seems to be laying well too.

Excellent

Exotic and warming, the scent of summer by the sea

Beautiful scent

Excellent lovely and creamy

Have used this for years.

Absolutely love this scent. Soap is good quality and lasts ages. Several family members have sensitive skin and this doesn't seem to irritate them but only used for hands, not full body.

This is for a gift, so I can only smell the perfume through the wrapping! But I know I would love to keep this for myself..................
The same goes for the other two soaps purchased below

Lovely soap, very creamy feels lovely on the skin and even the Husband was impressed, so we've ordered more!

dirty packaging all black smudges.

I love this fragrance. I never tire of it!

Same as above, can't fault at al.

Perfect match for heart soap plate - bit pricey but love it

A lovely rich lathering soap, to accompany the other bath products.

Lovely and subtle scented soap. Fun heart shape. Trifle expensive.

this is a gift so not able to comment accurately, but looks good

As ever, a divine smell. Beautifully presented. Ideal present.

Finishes the look in that range

Not used

Very nice

see above >>>>>>>>>>>>>>>>>>

A repeated order as product is a favourite of the recipient. Enjoys the scent of Seychelles.

Such a lovely and luxurious product. I have a few of the hand and body lotions and they're my favourite by far

Love this product!! And have sisters and friends who love it too as l've given it as presents. Do hope you don't ever discontinue it!!!!

lovely product

I love this cream and the fragrance is fresh subtle.

Beautifully boxed! Perfect gift!

Lovely product.

Great product, the smell is divine!

Works well, great moisturiser

Still waiting for this to be delivered.

Always a good product but it would be nice to have special package / container for Christmas.

the fragrance is so nice, makes you wanna use it more than necessary

I love this body lotion and I am pleased that it now has a much better way of getting the lotion out.

I bought this for my daughter as a stocking filler for christmas-she loves the White Company products so I know she will love this

The smell is very sweet not what I expected.

Lush

My wife loves this product and I win brownie points if I buy it for her

Again wonderful fragrance and texture and leaves hands so soft and fragrant

Love the quality of the product and the scent is divine!

As above

Been using for years. Love it.

Superb cream that really works

Missing from my delivery and on notification item was re-ordered and has since been
received although purchased as a stocking filler.

Nice size to carry in handbag. Once again love the scent.

ditto

lovely smell and good value indeed for a nice product

Lovely stocking filler - just the right size and price

Love the smell but it wasn't overally moisturizing as some other creams are. Slightly disappointed

Handy travel size. Love the delicate fragrance. White company excelled themselves again.

Very impressed

My absolute all time favourite - smells devine

It was bought for a present. It looked much more expensive than it was

Smells delicious and the bottle looks very classy in my bathroom.

This was ordered as a present for my daughter.

I gave this as a gift and it was received with great pleasure for both the elegant decanter and lovely smelling Seychelles bathfoam

Lovely decanter - given as a present and recipient was delighted.

Excellent product (as expected).

This is a luxurious bath foam smells lovely .

This was a Christmas gift for someone, so haven't used it myself.However it came boxed so don't know what the scent is like.

Bought as a present so can't comment on product. Would expect usual White Company excellence.

Favourite item.

Beautiful item. Bought as Christmas present.

Bought as a gift so cant comment in the product

Lovely product ......produces excellent foam .The perfect answer after a hard day when all you want is a luxurious soak in a fragrant bath.

BUYING A GIFT?
Just tick the gift-box option during checkout to make it even more special.
false
false