White Lavender Collection

Read All Reviews ( 207 )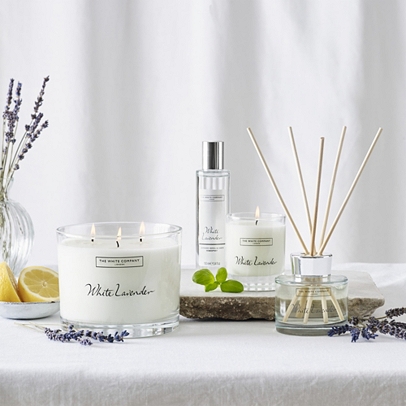 view full size image
Why we love it

There are many lavender scents, but nothing quite like this. With ours, soothing pure lavender notes burst from its heart, while hints of bright basil, cleansing Sicilian lemon and warming vetivert flicker across your senses. This unique blend encapsulates the restorative spirit of a secret garden, and makes for a truly relaxing bedroom and bathroom scent.

Delivery

FREE STANDARD DELIVERY on UK orders over £50

Standard delivery 3-5 days £4.95
We can gift box most items
Collect+ service available: see more details
Next day delivery available, order by 7pm: see more details
International delivery available on many items
For information on all of our delivery services click here

Reviews

Here are some reviews from people who have bought from us

White Lavender Collection

Great

Lovely smell. Very relaxing. Have purchased before.

My favourite

The smell is not as strong as I had hoped

I absolutely love the smell of this and it is strong yet not overwhelming and does not have any fake overtones which some diffuser scents do have.

Lovely

Not as much scent as I expected

my favourite aroma it makes my lounge smell devine.

One of the best Lavender oils purchased - great for bathroom

We find White lavender Diffusers the best one you sell.Not an intrusive aroma mild ,pleasant and fresh.

Lovely perfume, it permeates the whole bedroom.

I love the scent. I loved the old ceramic bottle. I like the glass bottle your white lavender diffuser has. But the new mint bottle looks cheap and I would not want it on my window sil. It looks like a glass version of a refill

Very subtle smell

Lovely fresh smell

another of my favourite scents

Lovely gentle scent.

Lovely scent but I have 1cm of fluid left after less than a month. I think this is very poor and not good value for money.

At the same time I bought a Zarahome diffuser which has lasted much better - about 80% left.

Good, but we actually only wanted a refill, which was sold out and more expensive than the refill.

The smell is subtle. I have bought this diffuser before and still have the room spray left, hence the new purchase. Wish I had been able to buy a refill versus buying a whole new diffuser

Very relaxing perfume

Expensive for what it is also purchased white crockery from you which is worse than bad dreadful glaze cracks and chips too easy

Cannot find anything to compete with the aroma of this beautiful scent of the white lavender diffuser, it's perfect for the bedroom

This is a repeat order always excellent products this and White Christmas

As above

Amazing scent that lasts the duration.

Lavender fragrance is all what we can love.relaxing smell.

Waste of money. Won't be buying again

fabulous scent -love it

My second purchase, just beautiful

Love the smell.

I think that the Pomegranate is nicer.

The main problem with these infusers is that they are REALLY DIFFICULT to open. After all the packaging, you finally get down to taking out the stopper, and it's really hard. In fact, I gave up, and had to get a workman to open them for me.

I love the white lavender series, thank you

Love the smell! Also looks v chic!

love it - again l have always got this diffuser somewhere in the cottage!

I love this scent, it is so soothing.

This is my 4th purchase and I just really love the smell which fills the whole room with a lovely aroma. So much nicer than other lavender diffusers I've used. I keep it in the bedroom and it always helps me sleep.

Lovely fragrance for a bedroom, very subtle and not over powering. Lasts for a good length of time (I only use 4 sticks which is enough)

Love it shame refill not available

Love this scent

The item is of the highest quality

Beautiful candle lovely fragrance, soothing and rlxing

The problem with this candle is that it doesn't burn to the end. There is a lot left when the wicks are finished so for £60 it's very disappointing, but I love the smell when it's burning!

Only candles I can see lush

Bought it for my self and it's lovely

Have been buying online with the White Co. for the last 3 years, for them. Love what you sell, wish I could buy something for me occasionally but at 71 don't think so. Thank you for always providing a good service, I hope it fits them and I pray they love it. Merry Xmas and a safe and prosperous year to WC.

Nice product

Known quality

As above

To me the best of the candles

I love my lavender products

Amazing smell but not great value for money. More deals for loyal customers please! 25% would make a huge difference. I would also like more discounts on luxury items like cashmere

Was a present

As always, a beautiful scent.

Haven't lite this candle yet ..but it smells divine ..

Very good thank you

Love the scent

My second purchase of this product and I absolutely love it!!!

something I buy frequently

Only item received. Order placed 26/11/17. All other items not received.

Christmas present so unused at this time

This is wonderful; I've been buying it for years.

Brilliant

Lovely restful relaxing after a busy day delicately scents bed linen

Lovely gentle smell.

Good what I expected

This really works and is wonderful to drift off to.

A lovely scent to go to sleep with.

This is my second one

I've also just bought dressing gown which is great along with grey lounge suit which I love. I love the white company candles - I've had lots over the years - miss the fig one.
Disappointed with the grey suede bag though - just nothing that makes it stand out - in my opinion not up to the normalwhite company luxury brand quality - sorry

A very calming fragrance

Replacement

Great night's sleep again.

This was also bought for a relative who I believe is happy with it.

Couldn't get to sleep without it

Wonderful scent; I can't live without it. It also makes an excellent present.

Not very much smell.seems to disappear very quickly

i have left my request for getting 2 samples when making my order this time so that i can try other scent of your product for consideration when ordering next time. The auto reply informed me that your company will get back to me within 72 hours. however, i didnot get any reply from your company for almost 3 weeks.

Excellent, really helps you sleep.

Always spray my pillow before I go to bed

Amazing smell, always have a great sleep when I use it

It does help us to go to sleep

Lovely scent, very light and not too sweet. Well packaged too.

I get this regularly

I use this every evening in my bedroom and it helps me sleep

I now need this to sleep its soooooo gorgeous!!!!

I love all the products in the white lavender range

Don't think it quite smells of lavender though!

A great scent. Refill grand idea.

Lovely, but about time you stocked refills in store or at least have a free delivery to store service!!

Love this product my favourite have used it for a few years never tier of it

Been using white lavender for a very long time. Never disappointed.

Great to have rfills

Although a little expensive, smells fantastic and scent lasts longer than similar products

As above

Smells lovely

Subtle smell, develops over a few days, very natural and not overwhelming, give the air a fresh feel.

Good general purpose fragrance... excellent lavender perfume

Please continue to stock the refills, as it means I don't have to discard the original bottles.

Lovely scent, not too strong, just what you want from white lavender..our white lavender plants in the garden smell the same! Also lasted at least three months in a clock room with no window. I buy this time and time again

The liquid evaporates very quickly and could be a stronger smell.
Irritatingly the diffuser refill is often out of stock. Therefore I am considering changing to another product.

a really sensible solution to diffusers and better environmentally.

So glad you do refills. Its a shame you don't do them for all your scents

Subtle but strong scent

Subtle perfume. The refill is the perfect way to replenish my diffuser.

I love the smell. Glad at last they have refills for the diffusers. Wee bit pricey though.

The product was poor quality compared to previously; item was out of stock for a period of time and new batch had very little smell. Returned all 6 refills purchased

I also wanted to purchase the bay & lime diffuser refills but out of stock until 27 July! Wait is unacceptable hence having to find an alternative product elsewhere; should look to have an automated reordering system/ subscription for customers who want 3+ refills at a time. I have 12 diffusers in total and need to refill every 6weeks and using 2 fragrances.

Beautiful smell. Lovely.

Bought untested, pleased with the aroma

exactly what I was looking for, so nothing more to say.

HAD EXPERIENCED THE PRODUCT BEFORE SO NO DISAPPOINTMENT

Love the smell of the tealights and they're really cute

Beautiful smell

Bought for guft

Repeat order,as my friend liked the product so much when I bought it as a birthday gift

One of my favourites, lovely smell and cute on the eye!

Bought as gifts but look nice

Really pretty and smell wonderful. Nicely presented.

Smaller than I expected but still a lovely gift.

Lovely gift

Doesn't seem to give out much fragrance.

Armand Bath Mats - lovely but they shrink. Despite washing them at 30 degrees and not putting them in the drier they shrank by 4 inches.

Love the lingering fragrance and gentleness of product.

Love it!

Very happy with the product.

A little extra touch would be to put gift bags in with the sets as they were Christmas presents.

Products are amazing, staff in Glasgow branch are really nice but I prefer to order on line as products are a bit heavy to carry, however after last online experience I will now make a point of going into shop.

Beautiful scent and so relaxing. I always look forward to using this - for the smell and the relaxation - gorgeous!

Was a gift for someone. Ive personally had this product before and was very pleased with it hence buying it now for a friend

Lovely scent and good quality produce

Bought as a present

High quality, beautifully presented.

Bought as a present - loved by the recipient

lovely box and contents it for our daughter in law who will be delighted

Quick delivery. Lovely goods as always.

It was a present for Mrs A Johnson-Hill

Was a gift. They said lovely products

Nice clean smell

Lovely soft fragrance.

Divine

Lather and smell brilliant

I have used this before. I come back to it because the scent is subtle, it cleans the hands well without drying them, especially important during the Winter months.

Relaxing and comforting

We just love this fragrance, reminds us of english country gardens

My Favourite. Classic White Company beautifully scented. Makes washing hands such a pleasure.

Smells divine as I had hoped

smell lovely

Also bought for a relative but I have purchased this product myself and I really like it. The fragrance when hands are washed is so lovely. I can't get enough of it.

Always a favourite...fresh and invigorating fragrance.

Wrapped up well in case of leakages (it didn't leak!)

The pump was not working and this is the second time it has happened with the products

Lovely fragrance

A nice scented hand wash, the smell is not overpowering. It cleans well but is not harsh on the skin. It makes a nice addition to the bathroom.

Lather quality and smell are top class

When unwrapped the product was covered in dirty marks - looks like it has been dropped only the floor with brown dusty marks all over the front. Not ideal for a Christmas present.

The matt oaoer packaging is very attractive but I found that it picks up some of the printing ink from the design on the inside of the delivery box, making it look quite dirty. The one I ordered had also come open and looked very grubby, you replaced jt but the replacement was also slightly dirty, maybe it needs some kind of plastic packaging over it.

Love the smell.

Buy this soap a lot as I love the smell and it lasts well.

Same as always - lovely quality soap.

Liked the shape of the sleep mask - it is softer than my old one - & did not squash my eyes - however I would prefer it to be elasticated rather than having to tie it up - as I found the material at the back of my neck a bit irritating.
Liked the pillow spray & roller ball - great size for travel. A lovely gift to myself!

Amazing

I never received it! Having ordered early Dec, I had to email and call to find out where it was (week before Christmas) to be told it was now out of stock. It had been listed as 'awaiting despatch' for some time - not once had anyone called or emailed to tell me it wasn't in stock. Very disappointing service and the delivery fee for the candles was ridiculous considering the bath foam wasn't included in the package as per original order. I'd not have placed the order in the first place had I known that was going to be the case.

I love the scent of white lavender more and more...

What a luxurious little item to have in the bathroom, not only a first class product but looks gorgeous too

It's a gift so couldn't open it or smell it but must be nice I guess

Looks great in the bathroom and smells beautiful. You only need a small amount so lasts very well

This is just so relaxing to use - the smell and the feel, plus the glass jar looks so lovely - do I display it or hide it in case someone else uses it??!!

I bought it for a present for a relative and I believe is very happy with the foam bath

Again allergic reaction from the shower gel so I can't use this product.

Gorgeous fragrance! Best I've ever experienced.
Beautiful container .

This product was supplied for guests in a hotel in Bath and I was very impressed. I therefore ordered some for home use on my return.

Heaven scent sent from above!

It was okay

Beautiful scent
A little goes a long way

There is nothing to,change

I've had an allergic reaction and I'm using a steroid cream from my GP. I can't use the other products. I've waisted my money.

Haven't tried this before so can't comment yet

Just love this fragrance

Ditto.

Haven't received

Bought as a present - loved by the recipient.

A Christmas present-my daughter in law will love it.

Love these products

Bought this as a gift for my Mother.

It is used every day in the guest rooms of our B&B, the guests often comment on how lovely it is, a touch of luxury.

I bought it as a gift for my daughter - she loved the luxurious feel of the hand cream

See previous comment -

Keeps my hands soft and fragrant.

Gorgeous smell.

Lovely hand and body cream quite thick but absorbs quickly. It's great to put on the back of the neck to relax tense muscles. Smells divine not sickly like some lavender products can.

Heavenly perfume - I rely on this at bed time to help relax me and prepare me for sound sleep.

It's great. The smell is so sensual and hands stay soft for long.

I adore this product, it smells heavenly & is very effective at moisturising.
Will continue to buy.

Do you make a white lavender perfume?

Have been buying this cream for years and it's never disappointing. This cream is very strongly scented with a real lavander smell which smells very fresh and the consistency is very light so perfect for day use.

BUYING A GIFT?
Just tick the gift-box option during checkout to make it even more special.
false
false